I've been horribly remiss in updating the blog, I'm sorry. It's been a busy month here!
Just a quick post before I run off to bed...Lily CRAWLED today, the furthest she's ever gone! She's pretty proficient in her "bear crawl", but we've been working with her a lot on regular, hands & knees crawling. Today she crawled all the way from Mimi (my mother in law) to me, kitty-corner from where she started, all on her hands & knees! It must've been 7 or 8 feet, which is BY FAR the furthest she's ever gone!
So proud of our Lily Bean!
We took a family trip to the
Woodland Park Zoo
for the first time a couple weeks ago, taking advantage of a wonderful Christmas gift from a dear friend. Lily enjoyed being outside in the fresh air, and especially enjoyed pulling up on the animal statues.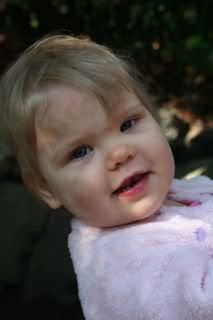 Tomorrow we have our surgical/anesthesia consult to discuss Lily's upcoming (yet to be scheduled) skin & muscle biopsy. More detail on that later. :)