I wanted to share a few pictures of Lily's 24hr EEG.
First, Lily has the leads placed on her head & they're "glued" on with this foul-smelling glue. Lily was wrapped up snug as a bug in blankets so she wouldn't rip the leads off. She loves being wrapped up like this & nearly fell asleep a couple times.
Then, her entire head is wrapped with gauze (to keep tiny fingers away from the leads!), and then a "stocking" is placed over the gauze which protects even more & keeps the wires in a tidy bundle.
They take a baseline EEG in the prep lab (where they do the short EEG's), and then they moved us up to the telemetry unit where we settled in for the night.
Managing Lily with all the leads attached was much more difficult than I thought it would be. Not only did we have to monitor the leads, but we had to make sure she stayed on the camera the whole time (they video the entire test so they can correlate her clinical seizures with the EEG activity).
For the most part, Lily tolerated it just fine

.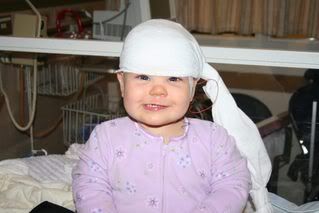 I was able to capture a picture of Lily's EEG, to give you an idea of what it looks like:
In the picture above, you can see the squiggly lines behind the video picture of Lily (she's laying down in the middle of the bed). Those are the lines showing the electrical activity in her brain. (For those of you who are used to seeing EEG's, this picture was about 30 minutes before the end of the test & Lily had managed to take of two leads, thus the flat lines in the middle of the screen). The red line across the bottom is EKG. Notice how there is no pattern at all to the lines; it's total chaos.
In comparison, here's a picture of a normal EEG:
Taking the leads off made Lily very sad: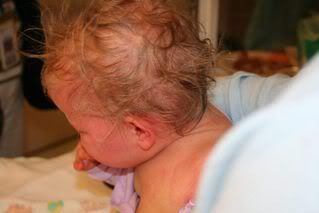 But juice makes it all better:
And just for fun, here are a couple pictures of Lily REALLY enjoying her dinner: